Saturday, my only day partially off. I say partially because I am still on pager, and I get at least six calls from my staff on Saturdays. Today I slept in and then while I was still in my undies (I knew you would want that information) I emailed Rhea a few times about the trip my family were going to take to the Hartsburg Pumpkin Festival. We finally got on the road and were two miles outside Hartsburg at 1pm. AT 2pm, we were still two miles outside Hartsburg. Mercede was throwing a fit in the back of the car. I had Cheyenne and Aysha spraying her with their squirt water bottles, as I couldn't reach her myself. We finally hit Hartsburg right before 3pm. Then I saw the population sign, I was scared. This town puts on a festival that has thousands of people that attend and THIS is their population.....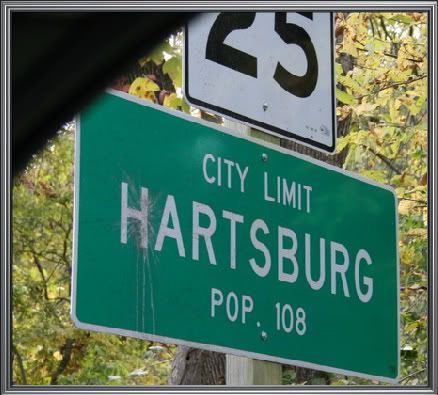 I did find out why it took two hours to move 2 miles, look at the detour they had us go thru..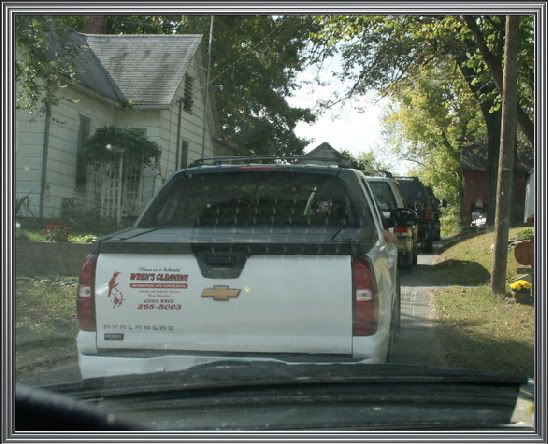 We finally hit the festival and I spot a pumpkin snow man. So cute..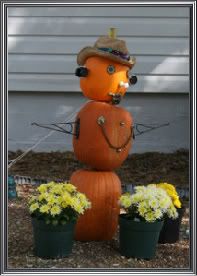 Then we have to drive thru, yes thru the festival!! Do you know how long it takes to move thru all these people walking in front of you?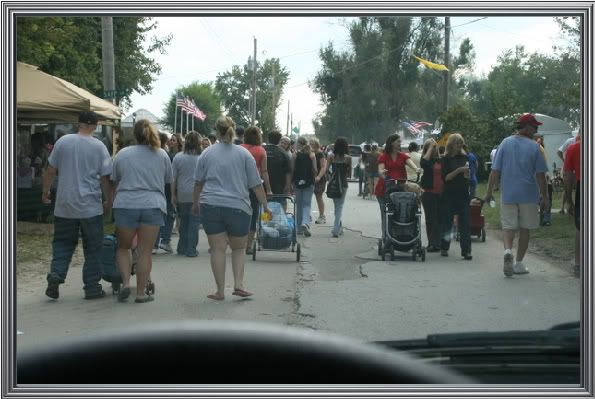 Then I finally find a parking place next to the corn field and Children of the Corn scenes race thru my mind. I wait a few minutes in my car, to make sure Malachai doesn't pop out at us.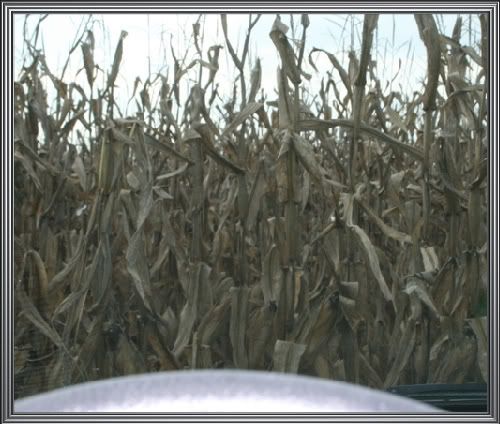 We have only two hours to spend at the festival because it ends at 5pm. It was two hours too long!lol Mercede was on a roll, and I had to call my husband to tell him I might have to sacrifice Mercede to "He Who Walks Behind the Rows". Mercede got lucky as I never ran into Isaac. We did find some pumpkins. Mercede had some choice words when she found out I wasn't going to carry one of them back to the car.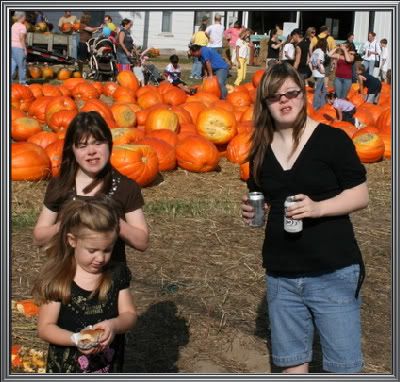 Their were some interesting sights to see like this dog, his name is Cajun (bet you couldn't figure that out)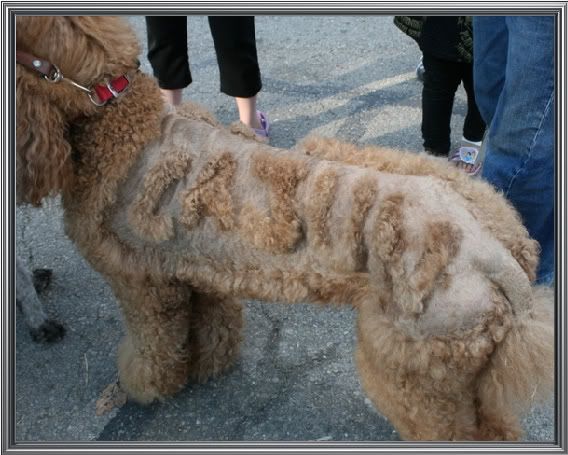 Oh and they had funnel cakes, wait it gets better they had funnel cakes with lots of bavarian creme on top. I wanted to snap a picture, I really did, but we ate it too quick but I did snap this photo of Aysha with some traces of it on her.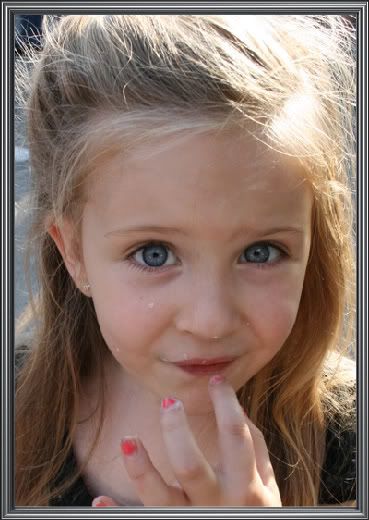 Ok, so it wasn't all bad, I found these crafts, and I took the lady's card, so now my family will know what they are getting for Christmas (the lady's card, ha ha).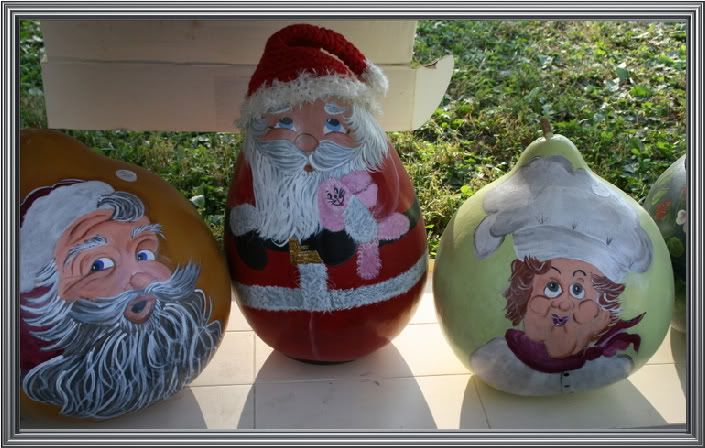 After Mercede and I wrestled near the Baptist Church (I was just trying to baptist her), we decided it was time to head home, well that and the fact it was 5pm. I noticed that we must of missed Malachai, as he had left some marks of his sickle in this pumpkin next to the corn field.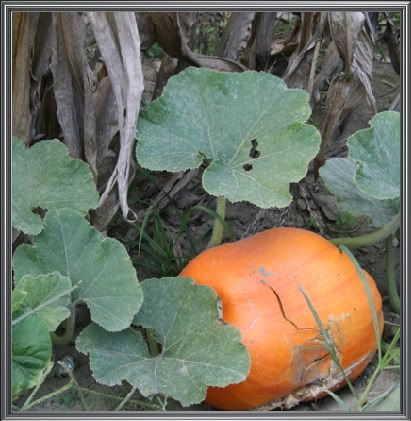 As we are pulling out of the corn field, we are made to detour to a country road. Then it ends and their are two ways to take, no directions on either way. Cars in front of me turn both ways, so I choose right. A car going the opposite way flags me down and ask if I know how to get to the highway. I was going to ask them the same. So after I go that way awhile, I turned around and went the other way, and then I turned around again and headed back the way I started.... and then I turned again, cause I stopped someone whom knew where to go. I traveled on this back road to "no where" forever. I can't see anything from the dust.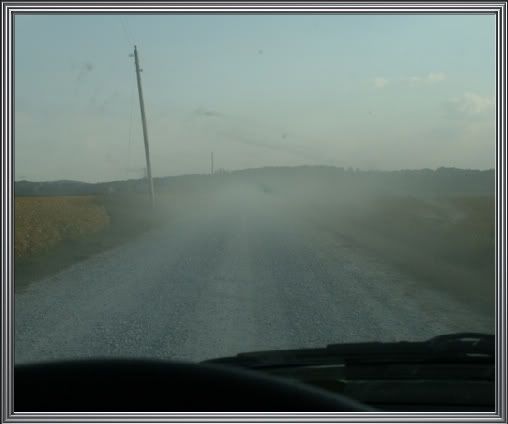 Then there was this bridge, yikes, are their words..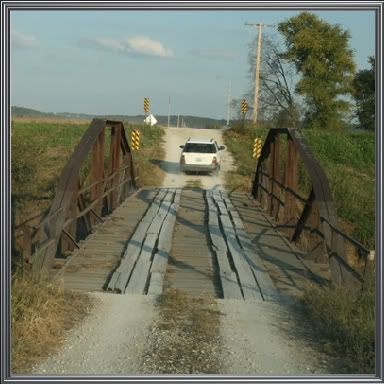 I really thought that this was going to be like those movies of them small towns that lure tourist to their deaths. But we did make it home. I stopped at Wal-Mart to buy Mercede a pumpkin to stuff her in, I also got a picture of the crafts the girls picked out. I had to take the photo by my favorite spider Bert. Bert is only one of the few hundred spiders that have taken over our home.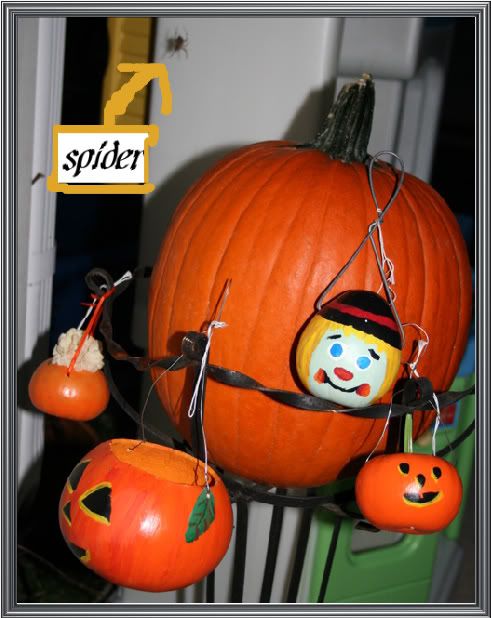 This post is dedicated to Insane Momma and her Halloween contest. Go check it out here.