By
Lynette
to post a lovely photo of my father......right after he got out of

the

shower

, in

only

his shorts (but holding his pants) prancing

around. I was
Double Dogged Dared
to post this photo for his



71rst birthday today

.




BUT

..........First I want to say a few things.




Dad, I love you, and I know I always get you the crappiest birthday gifts ( a month or two after your birthday, if I do get you anything). Then there is that problem of me never remembering your birthday. You know how I always get the dates mixed up and think it is the 29th (I called Kristi on Sat to confirm the date), and mom NORMALLY gives me a reminder call (your lucky I remembered mom, your slacking), and I am normally too busy working to come visit you (nothing has changed in that area). But I do love you and you have been the best father a daughter could want. You are always there for me when I need you (with twenty dollar bills...... ok, you know I don't do mushy well), your'll drive three hours to my home to babysit on a three hour notice. You do so much for me and I'll never be able to repay you. Over the years I have learned so much about you that I never suspected. I would of never pictured you as the caretaker you are. I'm choking all up thinking about how you cared for your brother and sister during their last stages of life. How you didn't want to leave their sides because you wanted to be there if they needed you, til the end. You amaze me with your strength father. I'm glad I took after you (with the exception of the quick temper, of course, lol).


Happy 71rst Birthday Dad.
And because I was dared, here is that half naked picture of you...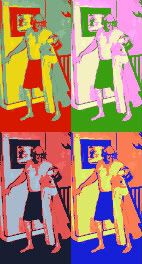 Whew, now that wasn't so bad was it??????







Just a reminder to everyone else...

Don't forget about
We Were the 80's Day
on this Thursday (Mr. Linky is up)